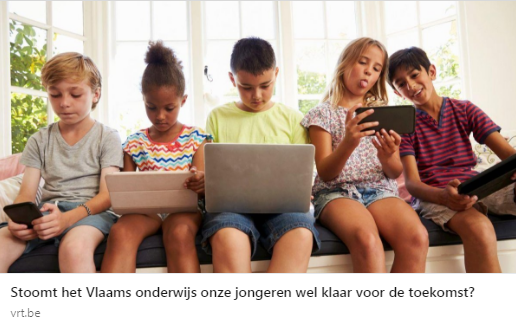 Het Vlaamse onderwijs zal in 2019 een grondige facelift krijgen. Die verandering is ook noodzakelijk. Minister Crevits, onderwijskoepels en vooral ook schoolbestuurders en leraren: laten we samen deze uitgelezen kans aangrijpen om volop in te zetten op 21e-eeuwse en digitale vaardigheden, en zo de inhaalbeweging nemen op de onderwijs-koplopers in de EU. https://www.vrt.be/vrtnws/nl/2018/07/13/stoomt-het-vlaams-onderwijs-onze-jongeren-wel-klaar-voor-de-toek/
De eindtermen worden geconcretiseerd in curricula en de leraren zijn in de eerste plaats de kritische factor in dit proces. Zij maken de curricula waar in hun klas. Al te vaak worden leraren als uitvoerders van leerplannen beschouwd. Waardeer hen als professionals die creatief vormgeven aan de leerplannen en dan is de stap gezet om de betrokkenheid van leerlingen te verhogen en zo betere leerresultaten te scoren. Dr. Kelly S. Meier geeft de essenties aan voor de leraren m.b.t. hun cruciale rol in de ontwikkeling van curricula. Onderwijsbegeleiders en schoolbesturen moeten de ondersteuning hiervoor bieden.
Teachers hold the key to the curriculum process. Using a wide variety of techniques, teachers encourage learning by delivering content in creative and impactful ways. Whole-group instruction, individualized attention, experiential education and using a global lens, are methods that provide teachers with avenues for success in the curriculum process.
Active Learning
Curriculum is content, but when contextualized, it comes alive for students. The role of teachers in the curriculum process is to help students develop an engaged relationship with the content. Active learning will increase the focus and retention of the curriculum, resulting in an exciting learning environment. Teachers build lessons that include simulations, experiments, case studies and activities to deliver curriculum. This interactive approach intertwines curriculum and practical experiences that immerse students in learning. The curriculum process provides opportunity for teachers to be creative and put their unique stamp on the classroom experience.
Multiculturalism
During the curriculum process, teachers use a prescribed curriculum to build lessons that have global impact. For example, teachers integrate examples of diverse people who have made significant contributions in the content area. The intentionality of building inclusion helps dispel stereotypes and to encourage students to look favorably upon diverse groups. If district-issued books or materials do not highlight historically underrepresented groups, teachers can provide supplemental materials during the curriculum process. Finally, the curriculum process enables teachers to consider how they can best deliver lessons that will reach English Language Learners, or other diverse populations.
Equity Minded Instruction
Well-intended curriculum cannot always meet the needs of all learners in the classroom. Teachers are the experts, when it comes to understanding the individualized needs of each student. Differentiated or Adaptive instruction is critical so that it ensures that each student will maximize their potential. Teachers may group students by interest to encourage collaborative learning or to assess student progress so that the teacher can determine the pace of curriculum delivery. Teachers may also create groups with varied levels of student achievement to encourage collaborative learning and success. The curriculum process relies on teachers to modify content delivery, as needed.
Incorporating Student Choice
During the curriculum process, teachers consider how they can incorporate student choice into classroom learning. Teachers can help students connect content to an individualized plan that reflects a career interest. Project-based learning is a dynamic option that teachers must plan in advance, during the curriculum process. This hands-on technique immerses students in a practical project that brings alive the classroom curriculum. Providing a wide variety of learning options speaks to the needs of all students and optimizes learning potential. Teachers use the curriculum process to plan and coordinate student choice options.
http://work.chron.com/role-teachers-curriculum-process-5344.html