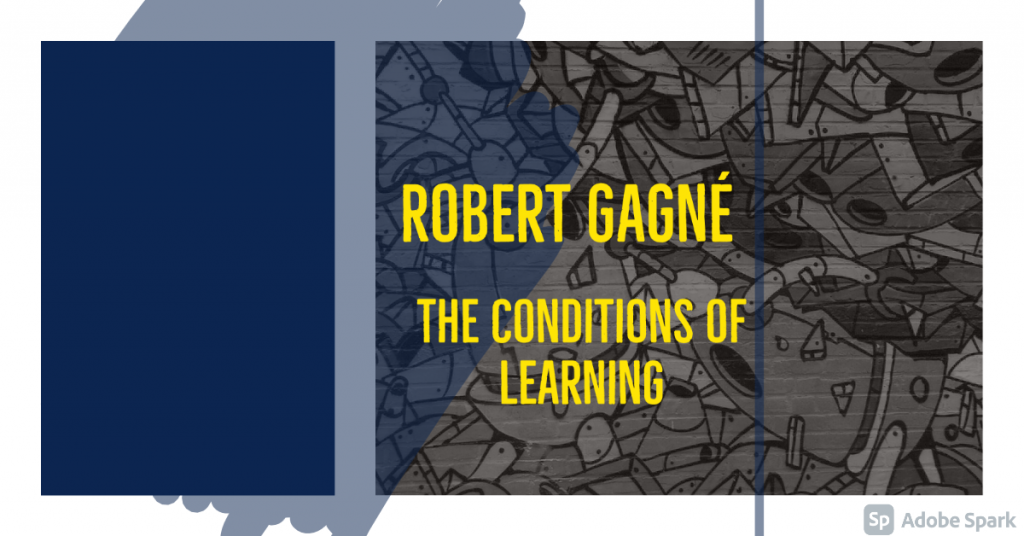 "Op de schouders van een reus" in de cognitieve psychologie
Een cognitivistische visie op leren heeft wellicht aan de basis gelegen voor tal van instructiemodellen. Het zijn heldere design-richtlijnen om instructie te ontwerpen. Robert Gagné mag tot de reuzen gerekend worden waarop tal van andere onderwijspsychologen steunen en zijn benadering mag tot één van de meest invloedrijke instructiemodellen in de onderwijskunde worden beschouwd.
Zie:  Dennis C. Fields, The Impact of Gagné's Theories on Practice. http://iceskatingresources.org/chapter_7.pdf
Zie: Rita C. Richey, The Future Role of Robert M. Gagné In Instructional Design.  http://iceskatingresources.org/chapter_10.pdf
Zie: Patricia L. Smith and Tillman J. Ragan,  Impact of R.M. Gagné's Work on Instructional Theory.  http://iceskatingresources.org/chapter_6.pdf
https://eric.ed.gov/?id=ED397841
De kern van Gagné's benadering:
Verschillende soorten leereffecten

Het bereiken van deze leereffecten veronderstelt telkens andere interne en externe voorwaarden. Deze externe voorwaarden zijn afhankelijk van de wijze waarop we instructie ontwerpen.
Robert M. Gagné (1916-2002) was een Amerikaanse onderwijspsycholoog die wereldfaam verwierf met zijn boek 'The conditions of Learning' (1965). Een groot deel van zijn beroepsloopbaan was hij verbonden als professor aan o.a. de universiteiten van Pinceton en Berkeley in Californië.
Voor biografische informatie: https://en.wikipedia.org/wiki/Robert_M._Gagn%C3%A9
Een geslaagd historisch overzicht van leertheorieën kan je vinden bij:
https://www.mybrainisopen.net/learning-theories-timeline/
---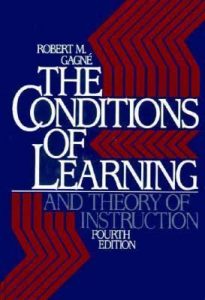 Gagné, R. M. (1985). The conditions of learning and theory of instruction (4th ed.). New York, NY: Holt, Rinehart & Winston.
Gagné, R. M., Briggs, L. J., & Wager, W. W. (1992). Principles of instructional design (4th ed.). Forth Worth, TX: Harcourt Brace Jovanovich College Publishers.
Gagné, R.M. (1975), Essentials of Learning for instruction. Hinsdale, The Dryden Press, 204 p.
---
Gagné onderscheidt een hiërarchie van types van leren (learning levels) die op onderzoek zijn gebaseerd.
Motorische vaardigheden
Verbale informatie (onthouden van informatie)
Intellectuele vaardigheden (discrimineren, begrippen verwerven, regels hanteren, problemen oplossen)
Cognitieve vaardigheden en strategieën (cognitieve processen die we gebruiken om informatie te onthouden, te analyseren, te verwerken en op te halen)
Attitudes (mentale toestanden en overtuigingen die bepalen hoe we ons gedragen tegenover een situatie, een object of een persoon)
Om te leren is het essentieel dat er motivatie is, ongeacht het type van leren, zodat de informatie kan opgenomen en verwerkt worden.
Ongeacht het soort kennis, vaardigheid of dispositie dat wordt verworven, beschouwt Gagné's theorie van leren het leren als een proces dat kan worden onderverdeeld in verschillende fasen voordat kennis wordt verworven.
Nine Events of instruction   Dit stappenplan kan helpen om de begeleiding van lerenden te monitoren. Na het bepalen van de leerdoelen voor een les of lessenreeks kunnen de negen stappen worden geïmplementeerd bij de lesvoorbereiding en de lesrealisatie.
Gain attention of the students (Ensure the learners are ready to learn and participate in activities by presenting a stimulus to capture their attention.)
Inform students of the objectives (Inform students of the objectives or outcomes for the course and individual lessons to help them understand what they are expected to learn and to do. Provide objectives before instruction begins.)
Stimulate recall of prior learning (Help students make sense of new information by relating it to something they already know or something the have already experienced.)
Present the content (Use strategies to present and cue lesson content to provide more effective instruction)
Provide learning guidance ( Advise students of strategies to aid them in learning content and of resources available)
Elicit performance (practice) Have students apply what they have learned to reinforce new skills and knowledge and to confirm correct understanding of course concepts.
Provide feedback (Provide timely feedback of students' performance to assess and facilitate learning and to allow students to identify gaps in understanding before it is too late.)
Assess performance (Test whether the expected learning outcomes have been achieved on previously stated course objectives.)
Enhance retention and transfer (Help learners retain more information by providing them opportunities to connect course concepts to potential real-world applications.)
In de praktijk is de volgorde van de 'nine events' niet strikt chronologisch bij het ontwerpen van een lessenreeks. Zo kunnen de stappen 4, 5, 6 en 7 sterk met elkaar verweven zijn.
Zie : https://eiclsresearch.wordpress.com/types-of-styles/learning-styles/gagne-robert/gagnes-conditions-of-learning-theory/
https://www.mindtools.com/pages/article/gagne.htm
https://labrlearning.medium.com/using-instructional-learning-theory-as-an-approach-to-content-51d88c9140ce
https://tinqwise.nl/blog/conditions-of-learning-and-theory-of-instruction
https://www.niu.edu/citl/resources/guides/instructional-guide/gagnes-nine-events-of-instruction.shtml
https://citt.ufl.edu/resources/the-learning-process/designing-the-learning-experience/gagnes-9-events-of-instruction/
Een interessant sjabloon om lessen te ontwerpen volgens de theorie van Gagné: Virginia Tech, School of Education. (2008). Instructional planning sheet based on Gagné's nine events of instruction [Doc File].     https://www.itma.vt.edu/courses/currip/lesson2/currip2.doc
Enkele overzichtelijke grafische schema's over de theorie van Gagné zijn te vinden in volgend artikel van Curry, J. H., Johnson, S., & Peacock, R. (2020). Robert Gagné and the Systematic Design of Instruction. In J. K. McDonald & R. E. West (Eds.), Design for Learning: Principles, Processes, and Praxis. EdTech Books.  https://edtechbooks.org/id/robert_gagn_and_systematic_design